On November 29, 2022, WANG Kun from the French School of Beijing Foreign Studies University, delivered a lecture entitled "Why go to France - the origin and development of Movement of Going to France for Work-&-Study Program". The lecture was chaired by IICE Associate Professor LIU Min.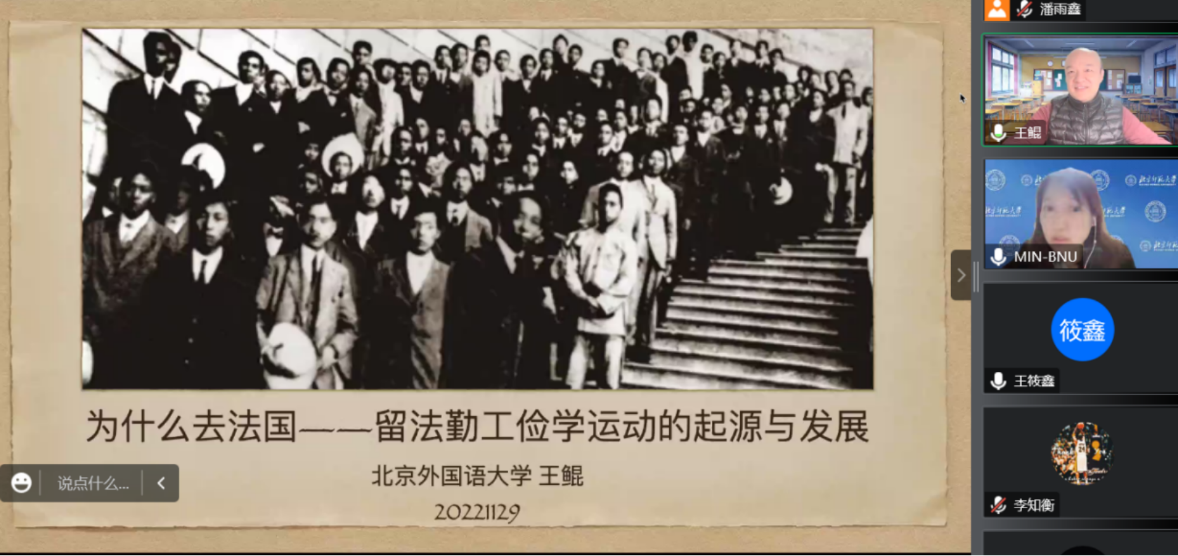 Mr. WANG started with the historical background and important sponsors of the Movement. In 1919, France had just experienced World War I and the pandemic of influenza, with a sharp decline in social labor force, economic depression and intensified class conflict. In this context, France and China reached an agreement to allow foreign students to study under a work-study program in France. Cai Yuanpei, Li Shizeng and others set up the Chinese-French Education Association to lobby around and raise funds, and have organized 20 batches of more than 1800 students to study in France.
Then, from the perspective of history and culture, Mr. WANG analyzed why Chinese people choose France at that time. First of all, French had mature education system and the tuition fee was low. And different from the tide of studying in Japan after the failure of the Sino-Japanese War and the tide of studying in the United States after the Boxer Indemnity, students studying in France can "work and study"; secondly, due to the separation of politics and religion and freedom of belief, racial discrimination is relatively less in France; thirdly, France is the birthplace of the Enlightenment, the cradle of the Great Revolution. It was rich in scientific democracy, literary and artistic heritage, and well developed in aesthetic education. Finally, Mr. WANG briefly narrated the course of the Chinese socialist revolutionary pioneer's arduous search for the way to save the country in France.
WANG Kun is deputy dean of the French School of Beijing Foreign Studies University, director of the Sino-French Cultural Exchange Research Center of the Ministry of Education, permanent judge of the French Embassy's Fry Translation and Publication Award, and winner of Ordre des Arts et des Lettres. He has taught French social and cultural courses for more than ten years. His research direction is French society and Sino-French cultural exchanges; his graduates work across the Ministry of Foreign Affairs, the Ministry of Culture and Tourism, the Ministry of Education and other Chinese national ministries and commissions, as well as foreign embassies in China, foreign-funded enterprises in China and other institutions.